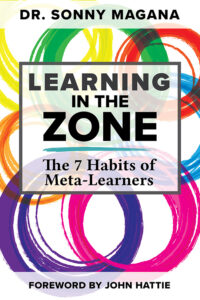 ACCELERATE LEARNING FOR ANYONE, ANYWHERE, ANYTIME
Every single one of us has the potential to experience optimal learning, the kind where our passions and abilities converge to elevate our performance well bone our expectations. This is what Dr. Sonny Magana calls "learning in the zone," and in this book the renowned learning futurist, Oxford Research Scholar, an award-winning educator provides easy-to-understand strategies that can help anyone get there.
In clear, engaging prose, Dr. Magana lays out the seven specific habits learners–whether they're students, parents, teachers, administrators, or educational leaders–need to meet the challenges they'll face on their education journeys. He shares inspiring insights from his own experience along with digital tools and an accessible grounding in cognitive science to make a strong case for meta-learning as the path forward for producing successful twenty-first-century learners and unlocking their limitless learning potential.
Rave Reviews!
"Sonny Magana has truly become the Eddie Van Halen of learning." -John Hattie, author of Visible Learning
"In this immensely engaging book, Sonny Magana provides a new view of the learner that goes well beyond the traditional perspective of 'receiver of information.' Magana's concept of meta-learning has the potential to set the foundations for the new pedagogy of the twenty-first century." – Robert J. Marzano, author of The Art and Science of Teaching
"I absolutely positively LOVE this book! "Learning in the Zone" equips educators with high-impact strategies that make meaningful learning so effortless that it almost feels like cheating! -Matt Miller, author of Ditch that Textbook
"Sonny Magana makes it so easy to understand and develop the seven meta-learning habits that our students need to be successful in school and in life. After the chaos of COVID, meta-learning should be the new normal in schools." -Alice Keeler, author of 50 Things You Can Do With Google Classroom
"II absolutely loved this book! Learning in the Zone is a must read for all educators. Once again, Sonny Magana has found a way to provide simplicity to sophistication as he takes the reader through his own learning journey and weaves in current research and best practices to unpack meta-learning for everyone. Sonny's examples provide a real-world context to learning that is both relatable and accessible. Learning in the Zone is a gift to educators from page one. It will transform our schools as we really dig into how learning occurs and how we can build meta-learners in our schools. Thank you, Sonny Magana for the work that you do and for continuing to inspire us along the way!" – Allison Staffin, District Curriculum Coordinator Cherry Hill Public School District

"A transformational vision and real path for learning. I cannot think of a time that this book is needed more. As we face a faction filled ever changing world a new learning framework is needed to inspire learners to positively face the challenges ahead. Meta-learning is needed for our students, learners, and for ourselves to thrive in the world ahead. If you are looking for future forward process for positive change and true learning, my recommendation is to get in the learning zone!" – Dr. Mike Chaix, Superintendent Rancho Cucamonga Schools