Leveraging Innovation to Build Collective Efficacy
The sad truth is that traditional teacher training programs have failed to move learning systems forward. It's time to stop imaging professional development as teachers sitting quietly and listening to 6-hour lectures. That model of professional development simply doesn't work to improve instructional practices in classrooms.
Dr. Magana's professional development services are highly sought-after, because they work. Collective efficacy can only be established through integrated systemic interventions, using an actionable and measurable model for continuous improvement. Dr. Magana's model for continuous improvement is thoroughly grounded in evidence, theory, and decades of practical classroom and leadership experience.
Dr. Magana's innovative 4-Stage approach to whole organizational development is a proven model for building collective efficacy through continuous growth and organizational development:
Conduct an Accurate Needs Analysis:The needs analysis stage is of critical importance to building collective efficacy. This stage involves in-person observation, leadership and staff interviews, and the administration of quantitative and qualitative surveys to key stakeholders.
Develop a Personalized Plan of Action:Every learning system is unique. A personalized plan of action is developed in order to honor the core culture and values of each learning system. This includes aligning the T3 Framework to existing instructional models and approaches such as The Danielson Model,The Marzano Art and Science of Teaching Model,IB, DT, PBL, STEM, STEAM, etc.
Implement Training/Coaching Model: A personalized training and coaching model is best implemented through a distributed approach to adult learning. Sonny provides state-of-the art in-person, as well as synchronous and asynchronous virtual learning opportunities that ensure leaders and educators have the necessary tools, support, and resources to accelerate student learning with digital tools. Magana Education professional development experiences are highly experiential, interactive, and impactful.
Evaluate Impact:Magana Education uses a mixed-methods approach to whole program evaluation that includes, but is not limited to, in-person observation, semi-structured and structured interviews, and quantitative and qualitative surveys along with archival, up-to-date performance measures.
Reliable Methods, Proven Results
"Dr. Sonny Magana brilliantly defines the T3 Framework which serves as a "call to action" for all education leaders to examine the role that technology has in teaching and learning. As Sonny details, schools are technology rich and innovation poor due to a constant pursuit of the latest glitzy technology fad that often has limited additive value to student achievement.
As education leaders we must see beyond the frenzy of the latest technology craze and evaluate the value-added impact that technology resources have on teaching and learning.
We have had the distinct pleasure of working with Dr. Magana with powerful results. As this Marzano Research Laboratory Case Study will attest, implementing Dr. Magana's T3 Framework in our school significantly improved student learning. His work provides a structure for educators to evaluate technology resources and to make education decisions that ensure we are transforming and transcending our classroom learning to the benefit of all students.
Rick Oser
Principal
Lemon Grove Academy Elementary and Middle Schools
Lemon Grove, California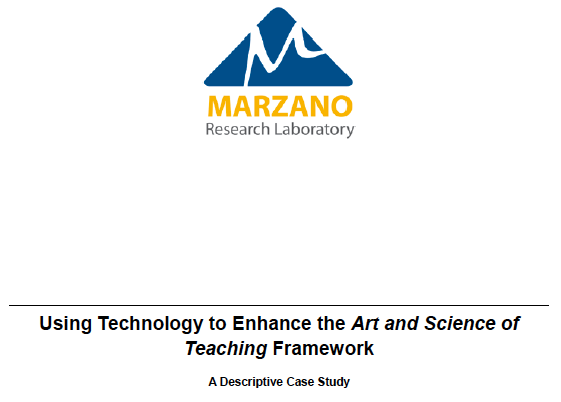 "Serving as an international Schools Superintendent, I have had the pleasure of implementing innovative programs to benefit students in schools all around the world. When I heard that Dr. Sonny Magana developed his T3 Framework, I immediately felt that this work would be exceedingly beneficial to our students and staff at the American International School in Lagos, Nigeria. Even so, I could not have anticipated the outstanding results that we have seen. The survey results measuring our success indicators were simply off the charts.
Our teachers were at first reluctant to even use technology, let alone edtech tools to accelerate learning. But with Dr. Magana's patient and expert guidance, our staff quickly gained the confidence and competence needed reach the highest levels of and implementation of technology in classroom lessons. The results were outstanding.
The T3 Framework is not about teaching how to use technology. We've done that. It hasn't worked. The T3 Framework works because it's about learning how to utilize the technology you have in a meaningful and authentic ways to enhance instruction and student learning. From students finding meaningful wicked problems to investigate, to becoming social entrepreneurship focused on improving their world, the T3 Framework will help guide your staff to implementing technology into their teaching in ways that will greatly benefit student learning."
Greg Rayl
Superintendent
American International School Lagos, Nigeria
"Hiring Dr. Magana to implement his professional development model at my school site was one of the best decisions I have ever made as an administrator. His expertise in content, mastery in delivery, and ability to develop instant audience rapport was extraordinary. Sonny took the time to listen and ask questions, to customize our professional development, and meet our teachers 'at their level.' His careful planning and content scaffolding helped establish a growth trajectory our teachers embraced and in which they excelled. Sonny is a proven expert who is incredibly personable and available. He works with teachers one on one, offering personalized advice above and beyond the scope of our training. The relationships he was able to establish with our leadership and instructional staff created the trust needed for teachers to move outside of their comfort zone and truly work towards innovative instructional change. Dr. Magana truly understands the systemic operations of schools and school districts and has established state-of-the-art, research based processes to help teachers ensure their students succeed. I highly recommend Dr. Sonny Magana for your learning organization–you won't regret it!"
-Allison Roberts
Principal, Regis Jesuit High School
Aurora, Colorado
Partnerships to Promote Collective System Efficacy
Dr. Magana's consultative services are highly sought-after because they are thoroughly grounded in the highest quality education research and theory, and backed by decades of highly effective classroom and leadership experiences. The overarching focus of Magana Education is to develop and sustain Collective System Efficacy: The strongly held belief that together, learning systems can and will measurably accelerate system wellbeing and mastery.
Dr. Magana has consulted with school districts, educational service centers, ministries of education, large companies with established brands, and exciting new EdTech Start-Ups. Sonny can work with your organization to develop and implement a strategic vision, provide leadership coaching, offer reliable advisement on product development, and establish effective impact evaluation protocols.
Traditional keynote addresses for professional learning merely replicate the current "Tell and Practice" model of learning that is woefully out of step with the needs of today's active learner. A "sit and get" model of professional learning does not move the needle of impact forward. Educators and leaders require a new professional learning experience that is active, participatory, and inclusive.
Dr. Sonny Magana has pioneered highly participatory, inclusive, and interactive Un-Keynote addresses around the world, making him a highly sought-after un-keynote speaker. Dr. Magana has been facilitating Un-Keynote address around the world, blending music, his peer-reviewed research findings, and practical tools that can be applied immediately and successfully.
Un-Keynote Topics:
The T3 Framework for Innovation
The T3 EduProtocols
The Power of Mindfulness in Learning
Enhancing the Art and Science of Teaching with Technology
The Highly Engaged Classroom
Standards-Based Assessment and Grading
Becoming a Contributive Classroom
Online and Hybrid Schooling That Works
Learning In The Zone
Teaching In The Zone
Leading In The Zone
Rave Reviews:
"Sonny was awesome! He was so patient with us! I would come again during vacation any day! I am leaving better prepared to being the school year!"
"The most valuable aspect of this workshop was Sonny's guided practice of the many useful websites and tools. I feel that I can really use these sites and tools to enhance my teaching and engage my students."
"You have given me a 'tool box' of resources that will make lesson planning a real joy! I have loved these 3 days!"
"Sonny's presentation was wonderful! He is an excellent communicator and made everyone feel special. An excellent instructor!"
"Sonny created a very comfortable atmosphere and impressed me with his knowledge of educational technology. I thoroughly enjoyed the open dialogue between Sonny and the workshop participants."
"Wonderful presentation. The information presented was relevant to reaching students using technology in the classroom at all levels. I would take this workshop again as Sonny left me wanting more and ready to implement these strategies in my classroom!"
"Very worthwhile. One of the best workshops in my 27 years of teaching!"
"The balancing of introduction, exploration, application and collaboration was awesome!"
"You did a great job modeling for us how to make people feel like contributors to the class!"
"Awesome workshop! I loved the energy and the positivity! Just what I needed to start teaching in a 1:1 class!"
Contact us to schedule a consultation at info@maganaeducation.com.