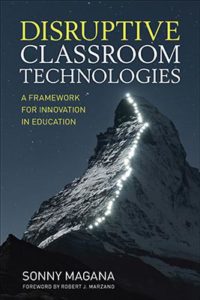 DISRUPTIVE CLASSROOM TECHNOLOGIES
Sonny Magana
Timely and powerful, this book offers a new framework to elevate instructional practices with technology and maximize student learning. The T3 Framework helps teachers categorize students' learning as translational, transformational, or transcendent, sorting through the low-impact applications to reach high-impact usage of technologies. Teachers and leaders will find:
Examples of technology use at the translational, transformational, and transcendent levels
Activities, guides, and prompts for deeper learning that move technology use to higher levels of the T3 Framework
Evaluative rubrics to self-assess current technology use, establish meaningful goals, and track progress towards those goals
The T3 Framework
The T3 Framework is designed to tighten up the process of integrating technology into teaching and learning by providing a clearer, more precise, and actionable framework to guide teachers and leaders in self-assessing current uses of technology, setting professional growth goals, and achieving continuously higher levels of mastery.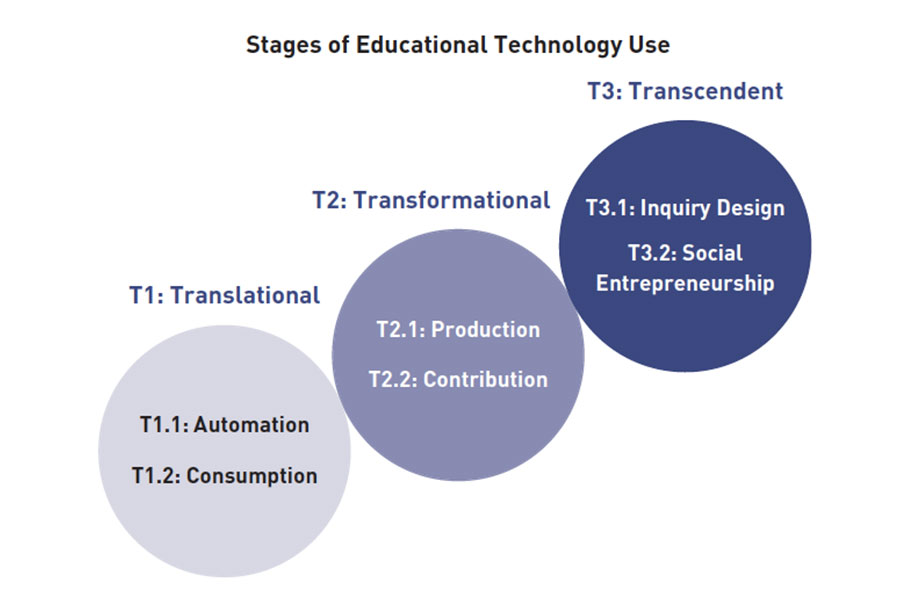 What people are saying:
Sonny Magana has made a significant contribution to innovation in education with his important book, Disruptive Classroom Technologies, and the T3 Framework. There have been 161 meta-analyses on various aspects of computers in education – from 10,226 studies, and the average effect is d =.34 – and this effect has not changed over the past 50 years despite phenomenal changes in the technology. A major reason for this lack of impact is most technological interventions do not change the dominant "tell and practice" teaching model. Moving beyond translation and transforming current practice to transcendent uses of technology is clearly where we should go. We need to build collaborative communities of students solving problems, explaining to others (regardless of ability) and using the social media aspects of technology to change classroom conversations from monologue to dialogue, increasing student impact questions, and allowing errors to be stated and dealt with – this can be so transcendental. This is the core of Magana's claims, and indeed this is how we'll see technology really make the difference we're after!
John Hattie, Laureate Professor, Deputy Dean of MGSE,
Director of the Melbourne Education Research Institute, Melbourne Graduate School of Education University of Melbourne, Victoria,
Australia
Chair, Board of the Australian Institute for Teaching and School Leadership
Associate Director of the ARC-SRI: Science of Learning Research Centre:  http://www.slrc.org.au
The T3 Framework is a brilliant breakthrough in our understanding and use of technology for learning. Sonny Magana clearly portrays the nature and difference between translational, transformational, and transcendent use of technology. The identification of transcendent use is itself an innovation. On top of all this he shows us how to navigate through the T3 system with guiding questions, prompts, and rubrics. For those of us working on the frontier of deep learning Disruptive Classroom Technologies, and the T3 Framework is a much needed gift.
Michael Fullan, Professor Emeritus
OISE/University of Toronto
Toronto, Canada
Fresh, innovative, and revolutionary, Magana's T3 Framework promises to challenge the status quo and invite disruptive practices in educational technology. Enhancing social entrepreneurship with technology, as the final stage of Magana's framework for technology use in education, is a powerful proposal and a compelling vision worth pursuing by all educators.
Yong Zhao, Ph.D., Foundation Distinguished Professor
University of Kansas
co-author Never Send a Human to Do a Machine's Job: Correcting Top 5 Ed Tech Mistakes
Sonny Magana's T3 Framework will provide schools and districts with the planning tools needed to go beyond the "$1,000 pencil."  His concept of technology as a disruptive force is exactly how we should be thinking about this historic moment of redesigning the culture of learning. Sonny's book is filled with powerful stories and thoughtful questions that will inspire and empower educators to improve learning. Moreover, he has provided us with a framework for implementation with detail that simply has not existed with earlier models. I have known Sonny for twenty years. His wisdom comes from his incredible passion as an educator, school administrator and now as a researcher.
Alan November, Founder, November Learning
Author, Empowering Students with Technology
Sonny Magana carefully analyses innovation in education and adoption of technology through his T3 lens providing practical tools and examples to assist us all. He draws on colorful, helpful examples from music to the fall of the iron curtain to illustrate his ideas and to highlight pathways from translational through transformational and ultimately to transcendent technology use. Disruptive Classroom Technologies exemplifies an "Innovate Don't Digitize" message and should encourage us all to progress quickly beyond the nursery slopes of adoption to the highly productive and exciting upper reaches of technology use for education.
Gavin Dykes, Program Director
Education World Forum
London, United Kingdom
What if…What if there were a framework to make tangible in a very articulate, strategic, and actionable way what we have long sought to implement: the student use of technologies to inspire learning that matters? Dr. Magana has done it! Disruptive Classroom Technologies validates your experience and then effortlessly and exponentially moves you along the T3 continuum to transcendent impact from the use of educational technology. A must read for educational leaders at all levels. Magana helps us add value to our investment in technology, and create educational systems of limitless learning.
Dr. Mary Wegner, Superintendent
Sitka School District
Sitka, Alaska
Disruptive Classroom Technologies is a model for how to effectively implement technology in a school. Dr. Magana's writing and practice demonstrate his unique combination of having a deep understanding of effective pedagogical practice and cutting edge knowledge about technology. The T3 framework that Dr. Magana developed blends learning and technology together in an applicable and effective manner. I have personally observed the power of Sonny's work in our own school district; Gaylord Community Schools has embraced the T3 Framework and as a result is a better place for students to learn and staff to teach.
Brian Pearson, Superintendent
Gaylord Community Schools
Gaylord, Michigan
In Disruptive Classroom Technologies, Sonny Magana brilliantly defines the T3 Framework which serves as a "call to action" for all education leaders to examine the role that technology has in teaching and learning. As Sonny details, schools are technology rich and innovation poor due to a constant pursuit of the latest glitzy technology fad that often has limited additive value to student achievement. As education leaders we must see beyond the frenzy of the latest technology craze and evaluate the value-added impact that technology resources have on teaching and learning. The T3 Framework provides a structure for educators to evaluate technology resources and to make education decisions that ensure we are transforming and transcending our classrooms. Disruptive Classroom Technologies is a must read for all educators!
Rick Oser, Principal
Lemon Grove Academy
Lemon Grove, California
In Disruptive Classroom Technologies, Dr. Sonny Magana introduces the T3 Framework, a tool was simple enough for our students and staff to understand and begin to use immediately. Our staff and students found the T3 Framework easy to grasp, yet once fully implemented, it will effectively transform the discussion on technology integration and how to significantly utilize education's investment in technology to enhance teaching and learning. In an authentic and meaningful way, the use of T3 will not only allow our students and teachers to focus on the content of today, but to develop the relevant skills and mindsets needed for the world of tomorrow.
Gregory A. Rayl, M.Ed., Superintendent
American International School of Lagos
Lagos, Nigeria
A must read for educational leaders faced with a 'technology rich but innovative poor' school, Disruptive Classroom Technologies reframes how educators and students use digital tools in the pursuit of transcendent learning. Equipped with the easy-to-understand T3 Framework, teachers can quickly assess where their own, and their student's use of technology resides; at the translational, transformational and transcendent level. Including advice and real world examples of how to move students' use of digital tools from simple consumption to social entrepreneurship, Disruptive Classroom Technologies equips teachers and leaders with the tools and mindset necessary to engage students as active architects of their learning in a solution-driven, global community of learners.
Kim Rayl, M.Ed., Curriculum Director
American International School of Lagos
Lagos, Nigeria